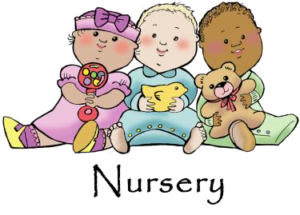 They are precious in His sight, and in ours.
We strive to have the best nursery and toddler room possible. Our goal is to provide a safe, healthy, and fun environment where your child, from birth to 3 years old, can begin to learn about Jesus.
In the nursery, your child will be able to play in a safe environment with other children their age and will receive the full attention of our nursery workers at all times. Rest assured, all volunteers and nursery workers go through a screening process and background check before being approved by our director of Children's Ministry. When you drop off your child, we will take your cell phone number so we can contact you at anytime.
We look forward to meeting you and your child this Sunday!