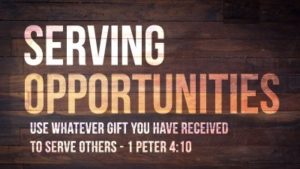 W
ithin our church, there are several opportunities to serve. Please consider the spiritual gifts that God has given you and consider how you may serve our local body. Here is a list of the opportunities available to serve. I hope that you may exercise your gift in one of these areas.
Thank you for your willingness to serve. We will be contacting you shortly.
There are many other opportunities to serve. Please find one. While the opportunities above may not be your role of service, you do have a role in which you should serve. We hope that you find one and find joy in serving!